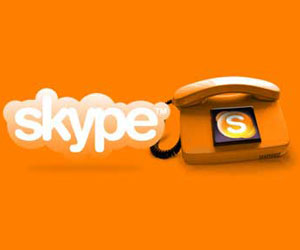 Skype announced the availability of Skype 1.0 Beta for Intel-based Mobile Internet Devices (MIDs).
MIDs are an emerging category of small, truly mobile consumer devices enabling a rich Internet experience, coupled with the capability to communicate with others, enjoy entertainment, access information, and be productive on the go.
MIDs typically come with 4"-7" screens, a camera, GPS and WiFi connectivity. Select MIDs also provide WiMax or 3G/4G support for wireless broadband connectivity on-the-go.
ABI Research expects 86 million Linux-enabled MIDs to ship by 2013.
Skype 1.0 Beta for MIDs empowers these devices with a rich communications capability through a new, optimized interface which is designed to deliver a great experience and fast, smooth kinetic scrolling support on the touch screen displays of MIDs.
The software enables you to make free Skype-to-Skype voice and video calls to anywhere in the world, in addition to cheap calls to landlines and mobiles.
It also includes instant messaging, group IM, SMS, call forwarding, voicemail, presence (seeing when your contacts are online) and the ability to receive calls from other Skype users or to your personal online number.
MIDs' faster performance and wireless connectivity also enable Skype users to experience an excellent mobile video calling experience.
"Today's introduction of the first, complete Internet communications offering for MIDs bridges the gap between the phone and PC and underscores our vision of 'Skype everywhere' and our commitment to open access," said Scott Durchslag, Skype's Chief Operating Officer. "By supporting WiFi, WiMax, 3G and 4G, this development expands Skype's mobile portfolio and further illustrates the broad accessibility to Skype that we offer on a multitude of mobile devices."
"Mobile Internet Devices enable users to enjoy the full Internet experience and stay connected with their friends and family wherever they go," said Pankaj Kedia, director of global ecosystem programs in the Ultra Mobility Group at Intel Corporation.
Skype is working with Intel to deliver its application software for MIDs through Original Device Manufacturers (ODMs) and Original Equipment Manufacturers (OEMs).